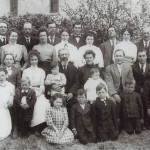 This gallery contains 7 photo.
Back Row: Herbert, Carl, Ernest, Eda Front Row: Arthur, John, Mae, Mary, Albert, William Not positive on the names. Just going by appearance and suspected chronological ages from JF Kobler's obituary. According to LaVergne Hardman(oldest daughter of Albert who is 95 in 2012) This is the lineup of the picture … Back Row: Carl Kobler, Will Higer, Herbert Kobler, Art Kobler, Will Kobler, Doc Ebnother Second Row: Elma Kobler, Eda Higer,Carrie Kobler, Gertie Kobler, Nellie Kobler Third Row: Fred Kobler, […]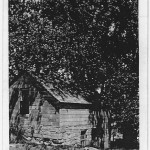 This gallery contains 8 photo.
Back Row: Mae Kobler, Elma Paxson Kobler (teacher), Lillian Gates, Fred Kobler, Albert Kobler, Art Kobler Front Row: Lola Gates, Olive Kobler, Freda Brinkmeyer, Ada Gates, Charlie Higer, Bob Gates, Charley Brinkmeyer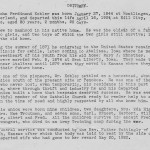 This gallery contains 4 photo.
John Ferdinand Kobler was born on 27 Jan 1844 in Montlingen, Switzerland. He died on 16 Apr 1924 in Hill City, KS. He married Mary Jacobea Ebnother, daughter of John Jacob Ebnother and Magadalena Nachbaur on 08 Feb 1874 in West Liberty, IA. She was born on 05 Sep 1856 in Montlingen, Switzerland. She died on 20 May 1920 in Hill City, KS. For more information about the Ebnother family, there is an interesting article about Mary's brother, Dr. Charles […]