Lorrayne Kobler, daughter of Albert and Anna Kobler, was born on 1 Nov 1919 in Logan, KS. She died on 8 Feb 2013 in WaKeeney, KS. She married Ruben Deines on 23 Jan 1938 in WaKeeney, KS. He was born on Feb. 21, 1914. He died on 11 Jan 2001 in WaKeeney, KS. Ruben and Lorrayne are both buried in WaKeeney City Cemetery.
Photos
Lorrayne (Kobler) Deines Obituary
(November 1, 1919 – February 8, 2013)
Lorrayne K. (Kobler) Deines, age 93 of WaKeeney, passed away Friday, February 8, 2013 at Trego County Lemke Memorial Hospital, WaKeeney. She was born November 1, 1919 in Logan, Kansas, the daughter of Albert James and Anna Jane (Davis) Kobler.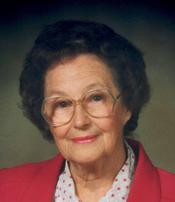 Lorrayne graduated with the class of 1937, from Morland High School, then went on to attend Fort Hays State University. Lorrayne Kobler married Ruben Deines on January 23, 1938 at the Immanuel Lutheran Church of WaKeeney. He preceded her in death on January 11, 2001. They enjoyed nearly 63 years of marriage together. If anyone knew anything about Lorrayne, they knew she was a wonderfully talented cook, who was famous for "Maca's Sheet Cake". She loved to make blankets for family and friends. Lorrayne enjoyed gardening, and canning what she grew. She was an avid Royals baseball fan. She was very generous with her time in giving to her community. To mention a few things, she was a Grand 4th Messenger for Job's Daughters, a 4-H Leader for many years, and was a District Aide for the Eastern Star. Lorrayne cherished her children, grandchildren, and great-grandchildren. She would try her hardest to be found in the crowd supporting her grandchildren and great-grandchildren's sporting events.
She will be missed by many friends and family, including: one son Tom (Susie) Deines of Hutchinson; two daughters Karla (Leary) Johnson of WaKeeney and Leslie (Kevin) Owen of Laurie, Missouri; two sisters LaVergne Hardman (who just passed away Sunday, February 10, 2013) of Lawrence, and Phyllis Madden of Rose Hill; a sister-in-law Ruth Scott of WaKeeney; eleven grandchildren Bradley Johnson, Brent Johnson, Blair Johnson, Tammy Deines – Clouston, Troy Gaston, Stacy Gaston Cahoon, Derek Deines, Melanie Deines Bugner, C.J. Deines, Amanda Owen, and Allison Owen; and fifteen great-grandchildren Ryan Johnson, Katie Johnson Bunker, Cole Johnson, Emily Johnson, Ian Johnson, Luke Johnson, Rane Deines, Roslynne Deines, Teagan Kohles, Kenzie Gaston, Dak Deines, Tyler Bugner, Hayden Bugner, Bailey Bugner and Drew Bugner. She was preceded in death by her parents, her husband, a son Alan Deines, a grandson Tim Deines, and a great-grandson Connor Johnson.
Funeral services will be 10:30 a.m., Wednesday, February 13, 2013 at the First United Methodist Church of WaKeeney with Pastor Larry Danforth officiating. Burial will be in the WaKeeney City Cemetery.
Visitation will be Tuesday evening from 5 to 7 at the funeral home.
Memorial contributions are suggested to the First United Methodist Church of WaKeeney or the Trego County Lemke Memorial Hospital Endowment Fund and may be sent in care of Schmitt Funeral Home, 336 North 12th St., WaKeeney, KS 67672.
Ruben Deines Obituary
WaKEENEY – Ruben Deines, 86, died Jan. 11, 2001, at his home.
He was born Feb. 21, 1914, at WaKeeney, the son of Solomon Sr. and Katharina Karst Deines. He was a 1932 graduate of Trego Community High School and a graduate of Hebron Junior College, Hebron, Neb. A lifetime WaKeeney-area resident, he was a farmer, stockman and a self-employed building contractor, retiring in 1991.
He belonged to First United Methodist Church, was a member of the Masonic Lodge AF & AM No. 148, Order of Eastern Star Margaret Chapter No. 249, Trego County Historical Society and the Big Creek Recreation, all at WaKeeney.
On Jan. 23, 1938, he married Lorrayne Kobler at WaKeeney. She survives.
Other survivors include: a son, Tom, Hutchinson; two daughters, Karla Johnson, WaKeeney, and Leslie Owen, Laurie, Mo.; two brothers, Solomon Jr., Liberal, and Raymond, WaKeeney; a sister, Ruth Scott, WaKeeney; 10 grandchildren; three step-grandchildren; nine great-grandchildren; and three step-great-grandchildren.
He was preceded in death by a son, Alan Deines; three brothers, Bernhardt, Sieghardt and Ernest Deines; and a sister, Martha Karst.
Funeral will be at 10 a.m. Monday at First United Methodist Church, WaKeeney, with the Rev. Tod Anthony presiding. Friends may call from 2 to 8 p.m. Sunday, with the family present to greet friends from 6 to 8 p.m., at Schmitt Funeral Home, WaKeeney. Burial will be in WaKeeney City Cemetery, with Masonic graveside rites by Masonic Lodge AF & AM No. 148, WaKeeney.
Memorials may be sent to the Trego Lemke Memorial Hospital Endowment Foundation or to First United Methodist Church, both at WaKeeney.