This fascinating diary transcript from Olive Kobler documents the Kobler family trip from Penokee, KS to the San Francisco, California World Fair, also known as the
Panama-Pacific International Exposition
, in 1915 in a Lincoln Town Car, which actually came with a tent that was part of the car.  Family members included Carl and Elma, Olive (16), Leo (12), Marie (9), Otto (7), Raymond (2).
The trip duration was over 3 months, from June 8 through September 18.  It was undoubtedly the trip of a lifetime for people in those days, as the diary depicts the difficulty of travel.  Through the Rocky mountains, Carl and Leo made the difficult mountain drive in their car with help of a guide, while the rest of the family made the journey via train to Grand Junction, CO.  Toward the end of the trip, Carl and Elma both got extremely ill with Typhoid fever.  They stayed in the hospital in Oregon, while some of the children returned home by train without them.

Many of the places mentioned are well known.  Others not so much, including one that is now a ghost town (Elgin, UT).  In some cases, the people and places could not be determined because the writing is faint and difficult to read and an internet search for town names revealed no results.
During transcription from the hand written diary, the wording and spelling was left identical to that in the diary.  Occasional editor notes are contained within brackets [ ].  Question marks signify words or names that are uncertain.  Also included within the diary contents are several original photos taken during the trip, as well as, some other interesting photos from the era.
Some of the notable places they visited:
Garden of the Gods, Colorado Springs, CO
Mormon Tabernacle Choir, Salt Lake City, Utah
Lake Tahoe
Golden Gate Park and The World's Fair in San Francisco
The home of Harold Bell Wright – best selling American writer who lived from 1872-1944.
Alum Rock Park, San Jose, CA
Catalina Island, CA – via steamship
Cawston Ostrich Farm, Pasedena, CA
Busch Gardens, Pasadena, CA
Here is the original diary of Olive Kobler as a PDF, although it is rather difficult to read. Thus, it is easier to read the transcript below.
Diary Transcript
Tues. June 8, 1915 – left home at 8 min till 11.  Traveled 31 min ate dinner at about 2 o'clock.  First trouble with mudhole.  Worked about 2 ½ hours.  Went thru Hoxie and Menlo.  Got to Colby about 8:00.  Stayed all night made 74 miles.
Wed. June 9 – Left Colby at 7:20.  Roads good to Brewster.  Roads a fright to Goodland.  Got there at noon.  Passed thru Edson and thru Ralston, Kanarado, Burlington, Stratton, Vona and Siebert.  Stayed overnight at Flagler arrived at 9:15 P.M.  Traveled 119 mi.
Thurs June 10 – Left Flagler at 7:40.  Got stuck again.  Passed thru Ariba, Limon, Ramak, Calhan.  Stayed overnight at Peyton.  Roads rough.  Calhan fine roads to Peyton.  Grand view of Pikes Peak.  Traveled 100 miles.  Got to Peyton about 8:30.  Fine scenery from Calhan to Peyton.
Fri June 11 – Started from Peyton 7:45.  Reached Colo Springs at 9:00.  Visited Garden Of Gods (Siamese twins (rocks), "kissing camels", "balanced" & "steamboat" rocks) and Manitou Soda Springs in afternoon.  Many fine residences and wonders of nature.  Came back thru Colo. City and rode around springs in evening.
Sat June 12 – Papa went to Manitou and took pictures of Pikes Peak.  Left Colo. Springs right after dinner.  All except Papa and Leo crossed onto our train.  I saw fine scenery from open car.  Scenes of Cañon City and Royal Gorge grand.
Sun. June 13 – Arrived at 4:00 AM.  Went to S. S. and church in morning, to ballgame between Clifton (with Blanche Yella?, Mac and Dorothy) and Palasade in afternoon.  Game ended 5 to 2, favor of Clifton.
Mon. June 14 – Went uptown for a while.
Tues. June 15 – Washed in morning.  In afternoon went thru tunnel 2 mi. long and visited great dam east of ?Comer?
Wed June 16 – Went to Uncle Elmers and up town in afternoon.  Stayed overnight.
Thurs. June 17 – Went to Grand Junction.  Had a fine time at picture show.
Fri. June 18 – Went to Uncle Nathan's.  Stayed overnight at uncle Elmer's.
Sat. June 19 – Folks went to Grand Junction.  Stayed with Blanche Sat night.  Had dandy time teasing Leo & Harry.
Sun. June 20 – Went to children's day.  Services in morning at M.E. church at 7:00 PM at Christian church with bands.
Mon. June 21 – Washed in morning.  Went to ice cream social at ?Levis? in evening.  A fine time.
Tues. June 22 – Left Grand Junction at 10:15 AM.  Passed thru several small towns.  Fruita only large town.  Stayed overnight at garage in Elgin, Utah.  Traveled 110 miles.  Roads fair.
Wed. June 23 – Left Elgin about 8:45 P.M..  Stayed about 5 hours.  10 mi west of Green River.  Reached Woodside about 8:00 o'clock PM.  Camp for night.  Roads rough.  26 mi.
Thurs. June 24 – Left Woodside at 8:30. Stopped at big spring ??? (???). Roads bad. Just started on good road.  ?In water bag? run over it and puncture tire.  Lost 20 min fixing our new tire.  Ate dinner at Price.  Started about 4:00.  Covered about 6 mi from Colton mountain.  Traveled 2 mi.  Fine scenery thru Price Canyon.  Roads not so good.
Fri. June 25 – Left camp about 9:00 beautiful scenery on way to Salt Lake.  Passed thru Spanish Forks, Springville and Provo.  Provo 1000 population.  Arrive in Salt Lake City 6:00 o'clock.  Camped in park. Roads fine.  120 miles.
Sat. June 26 – Visited Mormon Tabernacle grounds in afternoon.  Visited great assembly building.  Went thru Tabernacle not a nail in building.  Hear whispers all over building.  Heard great $100,000 pipe organ.  Fine music.
Sun.  June 27 – Left camp in Salt Lake City at 8:30.  Ate dinner under trees north of Ogden.  Camped at Snowville.  A Mormon ?tavern?. 120 miles.
Mon. June 28 – Left camp at 9:10.  Good view of great American desert.  Mirage showed rain.  Stopped at Rosebud ranch.  Bad roads all way.  Camped at Montelo, Nevada.  111 miles.
Tues. June 29 – Left Montelo at 9:00.  Hot weather.  Shot rabbits.  Two boys from Terrar? fell in with us in afternoon.  Pasted thru walls.  Camped 4 miles west of Elko.  Mosquitoes thick as "hops".  Simply couldn't rest.  Roads bad.  110 mi.
Wed. June 30 – Left camp at 7:20.  Stopped 20 min. at Carlini? visiting Earl Mayfield.  Ran over bump hurt Marie's head and mama's back.  80 mi.  stayed in hotel at Battle Mt.
Thurs. July 1 – Left camp at 9:00.  Good ride.  Nothing important.  Roads bad.  Stayed at Humboldt House.
Fri. July 2 – Weather was hot.  Roads bad in some places.  Had some tire trouble.  Broke a spring.  Rained a little in ?????????? Salt works.  No town at ?Leeta? the evening.  Camped at Wadsworth.
Sat. July 3 – Left Wadsworth at 8:30.  Had fine scenery all way to Lake Tahoe.  Roads were good.  Camped at lake on Cal-Nev line.
Sun July 4 – Spent Sunday sightseeing.  Rode around over Tahoe City. Watched ballgame for awhile.  There were no celebrations there.  Drove out of Tahoe about 6 mi. and camped not far from Lake Tahoe on a mountain.
Mon. July 5 – Left camp at 8:00.  We had fine scenery of Emerald Bay and took several pictures.  Weather rather cold but the roads were good.  We reached Sacramento about 7:20p.m.  Camped near a bridge across the American River.  There were 2 other families.
Tues. July 6 – Sacramento is a very beautiful place.  Palms and flowers are everywhere.  The state capitol buildings are grand.  Left there at about 11am.  12 autos had trouble over Patterson Pass.  We had no trouble but had to wait on an auto that had trouble.  We camped by the side of the road with a family from S.
Wed. July 7 – Left camp at 8:20.  Arrived in Oakland at about 11:40.  Took the ferry across the bay.  It was a fine boat ride.  Found a warming place at $7 ½ person.  Weather is very cool in ?Firsee?  Washed this afternoon.
Thurs. July 8 – Went to the fairground today (all of us).  Visited the ??? building.  It is built in the old colonial style.  Also visited the Place of Fine Arts.  Lost my hat but found it in the Columbia River (river rafting).  We went down on the horse in the evening.  Took a trip around Pasadena for 25 cents.  Have had a fine time but am tired.  Tower of Jewels is very beautiful.
Fri. July 9 – Papa, Leo, Marie and I went to the fair today.  We went thru France, Norway, Siam, China and Japan (bldgs).  France has a fine exhibit of many beautiful gowns and models.  China has many beautiful pieces of furniture.  Heard the Philippines band play in the afternoon and Susa's band in the evening.  Went down on the zone and went to the "creation" which is a very beautiful electric show, showing the creation of the world and man.
Sat. July 10 – I stayed at home with Raymond today.  Had a nice visit with Madge and W. Street and Wallace and Lawrence Armstrong.
Sun. July 11 – Went to Golden Gate Park and ate lunch.  Then we went to the beach at Cliff House.  Had a pleasant time there.  There were lots of people there.  Men, women and children were bathing and wading in the Pacific.  Went to visit Cloid Neal and his wife.  Had a nice visit and Cloyd played some musical selections.  Got "home" about 7:00pm.
Mon July 12 – Mama stayed at home with Otto and baby.  We visited the "Varions" industries building and saw Art Smith this afternoon.  Rode on the "siding" down on the Zone and afterward heard the Farewell Concert played by Conways band.  Got "home" at about 9:15
Tues July 13 – Unlucky number which proved to be lucky.  Visit the Palace of Liberal Arts.  Saw some fine "movies" and heard Mr. Brinna at the Exposition talk by telephone to a man in N.Y.  Met Mr. Sperry's in the evening.  Had a fine time with Margaret.  Went down on the zone and saw the "Dayton Flood".  A good electric show.  Got home about 10:00.
Wed July 14 – I stayed at "home" with Otto and Babe.  Got a letter from Grandma.  Was sure glad to get it.  I ironed this morning.  Art? Smith writes "Metro" in the sky this evening.  Folks got home about 9 P.M.
Thurs July 15 – We packed in the morning, left Frisco about 4 P.M. and camped near Redwood City (near an old water hole) and were almost eaten up by the mosquitoes again.  They were not bad in the tent and slept fine except for the fleas.
Fri July 16 – Broke camp about 8 A.M.  Saw some fine fruit farms.  Got into San Jose about 10 P.M.  Went to Oscar Lewis's for dinner and went to "Movies" with Velma in afternoon.  Had good time.  Enjoyed May.  Went to Mr. L in eve.
Sat July 17 – All of us went to Alum Rock.  Velma & I went on the St. Car.  Alum Rock is a kind of Park amusements of many kinds.  Dance Hall, Café, Merry Go Round, natatorium [building with indoor swimming pool] and small swings and slides. Enjoyed the afternoon very much.  Got home about 6 P.M.
Sun July 18 – Went to Newark about 16 miles north of San Jose with Mr. Lewis.  Read "The Lamplighter" thru this afternoon.  Had a pleasant ride with an ice cream treat in afternoon.  The roads were rough in some places.  Went to Lauren Dudley's in the evening.  Got home about 9:00 P.M.
Mon July 19 – Went to Mr. Lewis in afternoon for dinner.  Left for Los Angeles about 3 P.M.  Made 45 mi per hr part of time, got ahead of a passing train.  Camped near ?Sali? in a school house yard.  Traveled about 86 miles.
Tues July 20 – Left camp about 8 o'clock.  Passed thru Atascadero which is being built into a modern city.  It has water works and electric lights, is a very beautiful place in the valley.  I like this place better than any passed thru yet.  We camped about a mile from San Luis Obispo.  Traveled about 120 miles.  Salinas Valley very beautiful.
Wed July 21 – Broke camp at 9:15.  Broke one spring had it fixed at garage in Santa Maria.  Went by way of Giovata Road.  Road is very rough but not very much climbing.  We had a fine view of the Pacific this afternoon.  Stopped at camp in woods near the beach.  105 miles.
Thurs July 22 – Left camp at 7:45.  Bad roads for about 15 miles.  Went thru Santa Barbara which is a nice town and fine country around here.  Passed thru Pomona and Claremont.  Near Claremont is the home of Harold Bell Wright.  The house is white, is very large and situated on a high hill with large orange orchards all around.  Reached Ontario and stopped at John Paxson about 8 P.M.  Surprised them all.  Went to band concert in Gordon.  215 miles
Sat July 24 – Went to Whittier after dinner.  Stayed overnight at Mr. Clark Henshaw.  Had nice visit.  The country around Whittier is fine.  Many orange orchards around here.
Sun July 25 – Went to Balboa Beach and went bathing in the ocean.  Thelma and I certainly had one fine time.  Camped by the side of the road near Los Angeles.
Mon July 26 – Went to San Pedro.  From there got on the steamship "Hermosa".  Sure enjoyed our ride to Catalina Island.  It is a very nice resort.  It is noted for its wonderful sea garden.  All were sick except Papa & I and Raymond.  Stayed in our Apt. House overnight.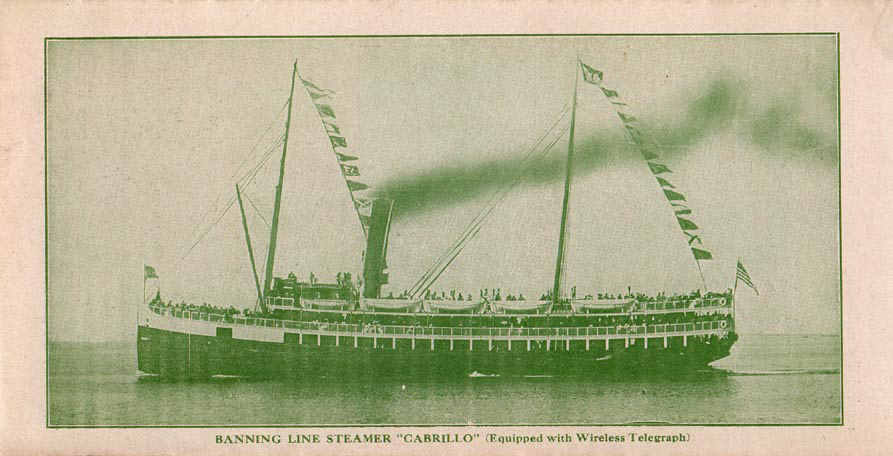 Tues July 27 – Rode around over Los Angeles in afternoon.  Went to Cawston Ostrich Farm.
Wed July 28 – Went to Bush Gardens.  It is a fine park.  Took a few pictures.  Camped in Bouquet Canyon.  The roads are bad.  Rode about 80 miles in afternoon.  Weather fine.
Thurs July 29 – Rode hard all day about 130 miles.  Camped at Porterville.   Roads were fair.  Weather is getting hotter.
Fri July 30 – Left camp about 9:20.  Went thru Bakersfield.  Got into Selma after dinner.  Met [John] Everette Moore first.  Went out to Uncle Mando's [William Alamando Moore].  Were glad to see us.  Iva [Moore], Lizzie [Elizabeth Moore] and Lyle [William Lyle Moore] at home yet Lizzie married to Owen Masonheimer.
Sat July 31 – Washed in the morning, ironed in afternoon.  Went to show in Selma in the evening.  Invited to dance but didn't go.  Was too tired.
Sun Aug 1 – Rollie [Raleigh Emmett Moore b. 5/25/1883, relationship unknown] and Edith [H. Moore], Roy [Milton Roy Moore] & Adeline [Elva Hall Moore], Everette and family & Atha Clark were at Aunt Achsah's today.  Sure had a nice visit.  Went home with Nellie and Atha this evening.  Had a Dandy time.  Went to "Endeavor" and "Church" in the park.  Got home at 10:30.
Mon Aug 2 – Went thru the Cannery in the afternoon.  It is very interesting also very hot in there.  Went to the library then to the park to read.  Went to picture show this evening.  Show was good.
Tues Aug 3 – Went back to uncles this morning, ate dinner and went on our way again this afternoon.  Stopped in Fresno about an hr.  Rode 55 miles since 4 o'clock.  Camped near ?Althowa?.
Wed Aug 4 – Left camp at 9:10.  Reached Riverbank about 1 P.M.  Stayed Wed night and Thurs and Thurs night at Billie Trotts.
Thurs Aug 5 – Had nice visit with Margaret.  Just read in the afternoon.
Fri Aug 6 – Left at about 10.  Ate dinner just outside of Stockton.  Stayed in Sacramento about an hr & ½.  Camped in Antelope.  95 miles.
Sat Aug 7 – Left Antelope about 8:15.  Passed thru Marysville into Biggs and Charley Ross's at 12:35.  Had fine visit there.
Sun Aug 8 – Was alone all day except for 2 little girls.  Wrote letters, read and play piano.  Went down to Feather River bathing in the evening.
Mon Aug 9 – Washed and ironed in the morning.  Left Mr. Ross's at 2:30.  Broke a spring.  Camped at Los Molinos.
Tues Aug 10 – My birthday.  Had to travel slow on account of spring.  Camped about a mile & half east of Redding City.  Stopped at 5 P.M.  About 62 miles.
Wed Aug 11 – Left Redding about 11:40 A.M.  Got spring fixed.  Roads very rough and rocky.  Good scenery.  Camped near Los Molinos.  90 miles.
Thurs Aug 12 – Left at 7:45.  Just traveled.  Good scenery again.  Roads fair but many turns.  Crossed Cal-Ore line at 3:45 P.M.  Fine weather.  125 miles.
Fri Aug 13 – Left Medford at 11:30.  Met 4 Kansas boys going to fair.  3 Aggies and 1 from KS. ?N?.  Beautiful scenery.  Finest we have seen.  So many ferns and trees on the mts.  Camped near Canyonville.  80 miles.
Sat Aug 14 – Traveled hard all day.  Left about 7:15 in the morning.  Reached Jacob Rohn's at 8:15 in the evening.  Rode 165 miles.  They were sure glad to see us.  Had letter from Atha Clark.  Also 2 letters from home.
Sun Aug 15 – Did nothing but sleep all day & eat fruit.
Mon Aug 16 – Washed in morning.  There is sure a lot of fruit here.  Papa left on a hunting trip this evening.
Tues Aug 17 – Ironed in the morning.  Leo fell and hurt his shoulder badly this afternoon.
Wed Aug 18 – Nothing doing.
Thurs Aug 19 – Nothing doing.  Climate is delightful but too smoky.  Scenery is grand.
Fri Aug 20 – Went on a tramp this morning.  Sat in the barn on new hay and ate pears.
Sat Aug 21 – Ironed in the morning.  Papa got here from his hunt before breakfast.  Nothing doing.  Hot as Hades here.
Sun Aug 22 – Left for Silverton at 3:15.  Jacobs "hated" to see us leave.  Arrived at ?Emily? at 6:10.  Roads were pretty fair.
Mon Aug 23 – Papa is sick today.  Hasn't felt well since Sunday.  Mr. Hobart owns this place.  It's a dandy.  There are about 40 buildings on the place.  Lots of fruit trees. Pears, prunes, peaches and plums are ripe.  Plums are very large.
Tues Aug 24 – Papa went to hospital today.  Dr. Wrightiman in charge.  He is a good Dr.
Wed Aug 25 – Nothing doing.
Thurs Aug 26 – Mama had a bad headache.  Dandy weather here.
Fri Aug 27 – Nothing doing.
Sat Aug 28 – Called on Papa in hospital.  Mama worse.
Sun Aug 29 – Went to town in afternoon.
Mon Aug 30 – Sewed today.
Tues Aug 31 – Washed today.
Wed Sept 1 – Ironed in morning.
Thurs Sept 2 – Went to town this evening.
Fri Sept 3 – Went to town with Mrs. Thomas this afternoon.
Sat Sept 4 – Went to see Papa this evening.  He is getting better.
Sun Sept 5 – Nothing doing.
Mon Sept 6 – Sewed today.
Tues Sept 7 – Washed today.
Wed Sept 8 – Got letter from Nellie this morning.  Sure glad to get it.  Mama getting worse.
Thurs Sept 9 – Mama went to the hospital today.
Fri Sept 10 – Made baby Eda 2 dresses.
Sat Sept 11 – Had trouble with Hobarts, went to town to look for a place.  Couldn't find any.
Sun Sept 12 – Visited Mama and Papa in afternoon.  Both feeling better.
Mon Sept 13 – Moved to town.  Boarding at Mr. Jones.  Nice place.
Tues Sept 14 – Packed, washed and ironed today.
Wed Sept 15 – Raymond and I start for home today.  Changed cars at Portland.  Got along fine.
Thurs Sept 16 – a bum? and lonesome? day.  No good scenery at all.
Fri Sept 17 – Changed cars at 5:40 at Cheyenne.  Had no trouble.  Changed again at Denver.  Got along fine.  Had to wait 5 hrs for train in Oakley.
Sat Sept 18 – Home at last.  Sure glad to get here.