Carl L. Kobler was born 2/15/1876 in Atalissa, Iowa. Carl married Elma Matilda Paxson on 5/1/1898. He died 7/19/1967 in Graham County Hospital in Hill City, KS. Buried in Penokee,KS Cemetery. Elma Paxson was born in Pleasant Plain, Iowa on 11/08/1877. Elma Paxson Kobler died 10/10/1960 in Hill City, KS and is buried in the Penokee Cemetery.
Carl and Elma were both school teachers at one time. They owned many acres along the Solomon River in Graham County Kansas. They built a large house there with stones cut by Carl's father John F. Kobler. It had a full basement, first floor, second floor and full attic. Every room had window seats, and living and dining rooms had leaded glass insets. It was a
wonderful house for the children to grow up and many of the grandchildren were also lucky enough to also grow up there.
Carl Leo Kobler and Elma Paxson had the following children:
Olive Kobler
Leo Kobler
Otto Kobler
Photos
Back: Olive Kobler, Otto Kobler
Front: Marie Kobler, Raymond Kobler, Leo Kobler
Trip to San Francisco World's Fair in 1915
One of the most memorable stories of the Carl and Elma Kobler family was the trip to the World's fair in 1915. The details of this trip are described first hand in the Diary of Olive Kobler.

Front row second from left Wallace Steeples, second row third from left Otto Kobler, top row fourth drom left Leo Kobler
Carl & Elma Kobler Golden Wedding Anniversary
The original photo from the article:
Carl & Elma Kobler 60th Wedding Anniversary
Carl and Elma Kobler headstones – Penokee, KS. cemetery.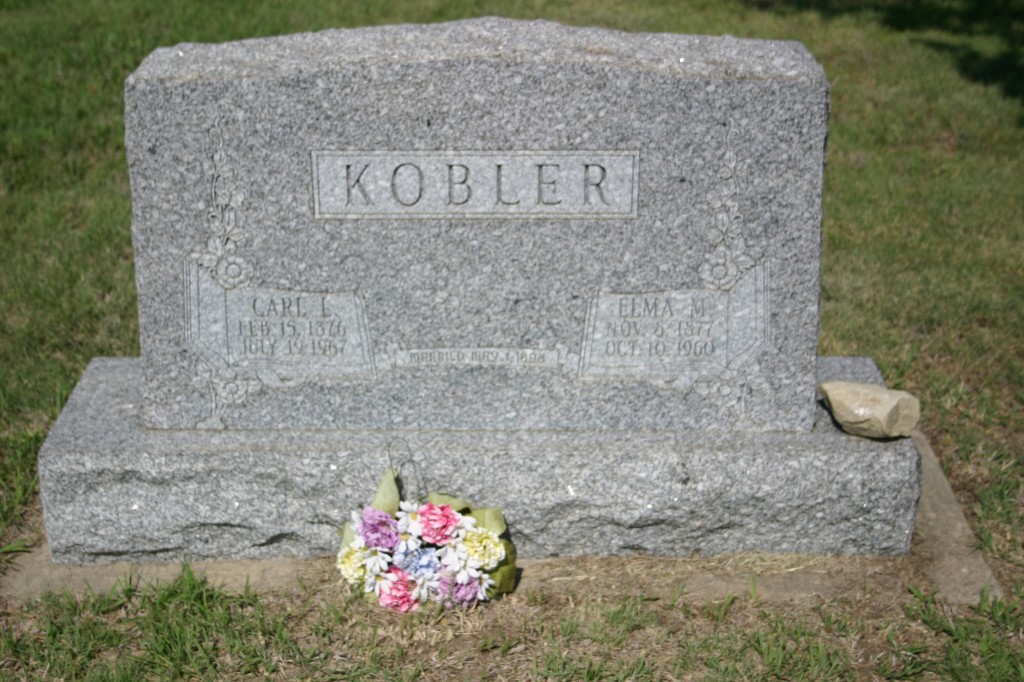 Here is a newspaper editorial following the death of Carl Kobler.